Sleeping Bee Facebook page
Lindsey Horner Music Projects Facebook page
Previous events
With drummer Tony Jefferson and pianist Daniel Kelly
A unique multimedia event. See and hear art in a whole new way through the lens of blind photographers and live music inspired by their stunning and thought provoking images.
 Sleeping Bee
Come Down In Thunder is finally out! There were some unexpected delays in bringing it to the world, but it now exists in both corporeal and digital form. Please do listen, enjoy, share (oh - and buy) Thank you from Lindsey Horner, Andy Goessling, Randy Crafton, and Timothy Hill, collectively known as Sleeping Bee.
Come Down In Thunder - Sleeping Bee
With this second collection of music, Sleeping Bee ups their game considerably. While the first recording, Heyday Maker, was an all instrumental affair featuring the multi-instrumental talents of Lindsey Horner, Andy Goessling and Randy Crafton, this album sees the band adding the unique talents of singer and guitarist, Timothy Hill. In addition to being a fine conventional vocalist, Timothy is also adept at several different styles of harmonic or "throat singing" which he uses to brilliant effect on several of the tracks here.
Sleeping Bee's style has been described as "World Folk Jazz" and the range of material is wide. From the opening "Soul of a Man" by the great bluesman, Blind Wille Johnson, Bob Dylan's "I Pity the Poor Immigrant", Julie Miller's "All My Tears" to John McLaughlin's "Lotus Feet", the band does not simply cover other artists' material, but rather reshapes and reimagines it from the ground up. Originals like Lindsey Horner's "Mighty Rain" and "Flight of the Humblebee" and Timothy Hill's "Conguero" show a depth that has been gathered from years of experience.
All four musicians have spent much time as sidemen making other artists sound good. Sleeping Bee is their chance to have their say.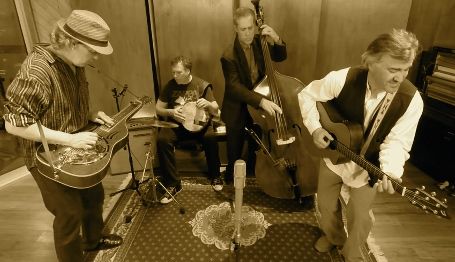 Sadly, some of the following is now out of date due to the devastatingly sad and untimely passing of Andy Goessling in October of 2018. Timothy, Randy and Lindsey are letting time tick a heaven 'round the stars for a bit before deciding how, or even if, to proceed with what form Sleeping Bee could take without Andy. Please stay tuned and enjoy the music so far. Below is the story of how we came to be and what we've been about:
Sleeping Bee is a band of four longtime friends and multi-instrumentalists, Lindsey Horner, Andy Goessling, Randy Crafton and Timothy Hill. Their style can best be described as "Acoustic World Folk Jazz" and the music showcases their wide range of musical expertise and a depth of feeling gathered from years of experience.
 
 
The first instrumental recording, Heyday Maker, exists in that unique early 21st century area where Folk, Jazz, Celtic song forms, melodic improvisation, and original ideas all happily co-exist and vitalize each other. That recording features original pieces by both Andy and Lindsey, one by the great Keith Jarrett, one by the also great Bob Dylan and a rethinking of two compositions by the 18th century Irish bard, Turlough O'Carolan. Lindsey plays bass and various tin whistles while Andy is heard on guitars, mandolins and bouzouki. Percussionist, Randy Crafton, adds his artistry to the music on a variety of instruments.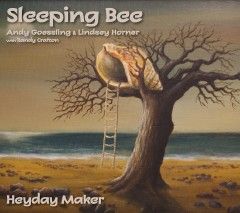 While Andy and Lindsey have known each other since they were teenagers, their musical careers have moved in somewhat different orbits over the intervening decades. Andy grew up in rural New Jersey and Lindsey in the heart of New York City so it is perhaps not surprising that Lindsey has been more associated with Jazz and improvised musics of that urban center while Andy has been more involved in the bluegrass and roots music scenes. They have talked for years about pooling their talents and resources and doing something together but could never quite find the right time to get that promising idea off the ground – until now. Indeed, it could be fairly said that all of these musicians have spent most of their careers making other artists sound good. Sleeping Bee could be seen as their chance to have their say.
Sleeping Bee performs "Soul of a Man" by Blind Willie Johnson, arranged by Timothy Hill, filmed by the versatile Kyle Cassel:
Here's a new tune in progress called, "Flight of the Humblebee", shot and edited by the estimable Kyle Cassel:
Here's an informal video of the band done after a fun rehearsal in mid-February, 2014. One of the tunes we've been working on is "Peace Like a River", a little known gem by a young Paul Simon. It was filmed by the multi-talented Kyle Cassel. Enjoy:
And here's another one from the same day, a reading of a tune of mine called "All Hallows" with Andy on mandolin this time:

Sleeping Bee offered a new tune for download only for the holiday season, 2013. It's our version of the 15th century carol, "There is No Rose". The words are traditional, the music is by Lindsey, it is arranged by all the fellas and was recorded at Randy's first-rate studio, Kaleidoscope Sound. Go to the store page to download your copy or hit this link: http://www.cdbaby.com/cd/sleepingbee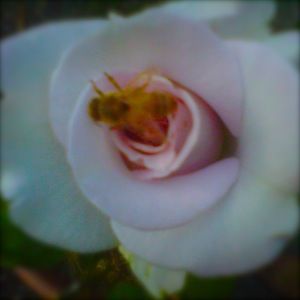 Band Bios and info:

Lindsey Horner has most often been heard with artists associated with the cutting edge: guitarist Bill Frisell, pianist Myra Melford, drummers Bobby Previte and Allison Miller, trumpet player Dave Douglas and many of the visionary musicians from the days of the Downtown and Knitting Factory scenes in New York of the 1990's and beyond. He also has firm roots in Irish music having played for years with non-pareil singer-songwriter, Susan McKeown and Irish music legend, Andy Irvine. He currently plays in the band of exciting Celtic fiddle virtuoso, Eileen Ivers. He also has produced six previous recordings of his own music, several more as a co-leader and played on many more as a sideman.
 
Multi-instrumentalist Andy Goessling has enjoyed a long and varied career backing and being a part of many seminal projects in the acoustic, folk and bluegrass scenes. He has supported artists such as Garnet Rogers and the late, great Rick Danko and has served in the house band at the Falcon Ridge Folk Festival backing up Greg Brown, Richard Shindell, Vance Gilbert and many others. He has played with Allman Brothers guitarist, Warren Haynes, and two of his personal Bluegrass heroes, David Bromberg and John McEuen. Currently a member of the highly regarded band, Railroad Earth, Andy was chosen, with the other members of Railroad Earth, to be a part of Phil Lesh and Friends and also helped Phil open his new club, Terrapin Crossroads in a band which included other original Grateful Dead member, Bob Weir.
 
Drummer/percussionist, Randy Crafton has over 100 recording credits to his name, has toured extensively through North America, Europe and Asia, performed on Broadway, and premiered over 40 works by composers such as John Cage and George Crumb.  As an educator he has held positions at The Juilliard School, The New School, Drummers Collective, and the Berklee College of Music, and has served as the chairman of the World Percussion Committee for the Percussive Arts Society. As the owner and chief engineer of Kaleidoscope Sound just outside New York City, he has recorded and produced scores of artists from Richie Havens to the Mingus Big Band.
 
Singer-composer Timothy Hill's musical explorations span the genres of folk, jazz, world music, contemporary classical and improvisation. At various times in his career he has shared the stage with Pete Seeger, Jeff Buckley, Bill Frisell, Allen Ginsberg and John Cage. Working with David Hykes and the Harmonic Choir, he has been a pioneer in the art of harmonic singing, prompting The New York Times critic Robert Palmer to praise Hill as "a virtuoso of the Tibetan chanting technique." Mr. Hill has released three recordings of original songs - This Bright World, The Human Place, and Spirit's Body. He contributed to the spoken-word-with-music collection Pete Seeger: The Storm King, and has recorded with diverse artists such as alternative rock chanteuse Katell Keineg, klezmer clarinetist Giora Feidman, composer/cellist Robert Een and Irish traditional singer and flautist Cathal McConnell. Hill performed on eight recordings by David Hykes and the Harmonic Choir, including their seminal work, Hearing Solar Winds.